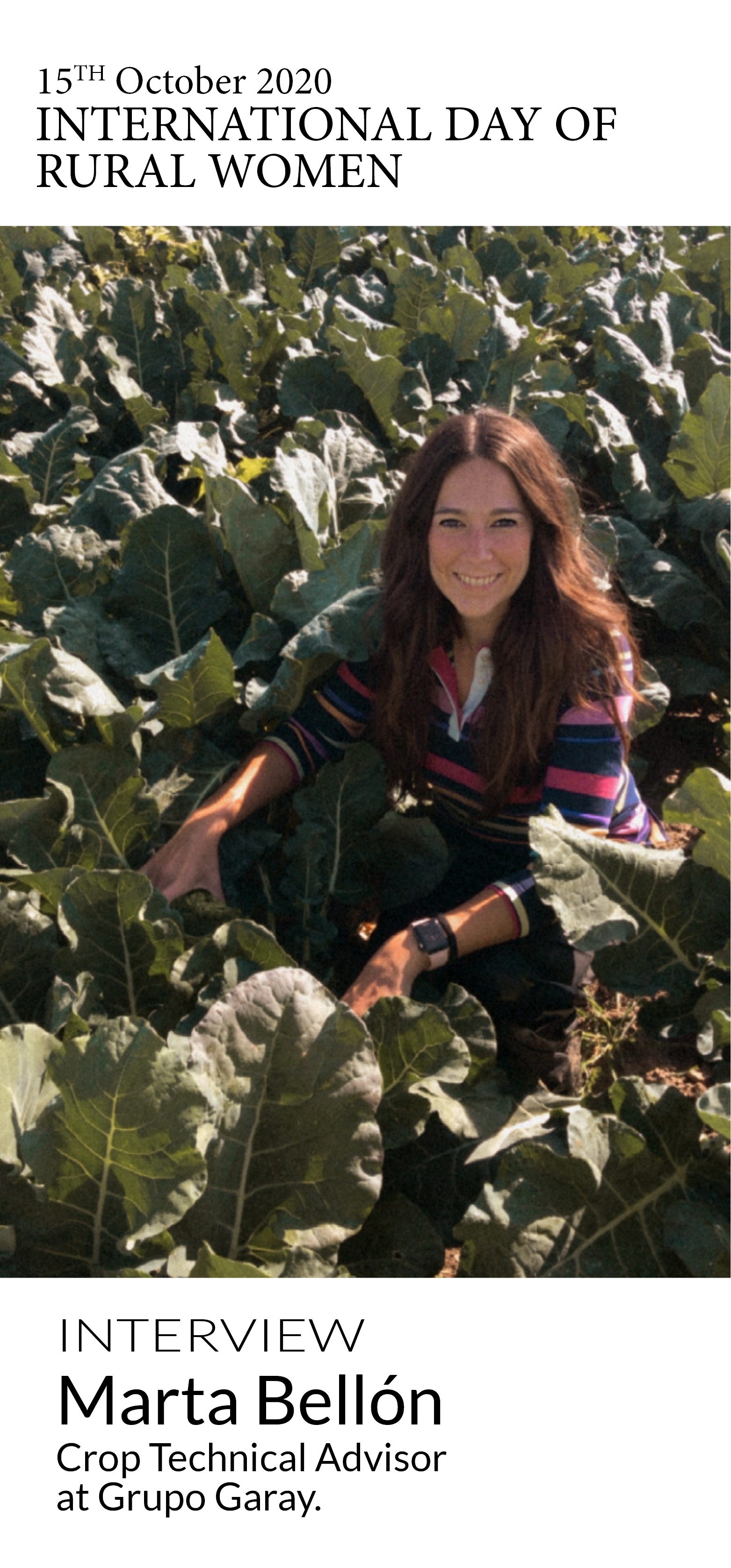 Tell us about your background in the agricultural sector. How did you get started, and where does your vocation come from?
There has always been a farm in my family, and ever since I was a little girl, I have helped manage it. My vocation comes from those moments that I have spent in the fields, both working and having good times eating altogether.
While growing up, I felt responsible for having the capacity and knowledge to solve the different problems generated on our farm.
Also, this is a beautiful sector in which you are continually learning.
Did you have any moment of indecision when wanting to enter a predominantly male profession?
Before starting in this profession, I did not think that this was a male sector since everyone contributed equally in my family. During my studies, there were a greater number of male students than female students, but inequality was not noticeable either.
When I started working as a technical advisor in the field, I became aware of this inequality. The owners of the farms are mostly men, are used to receiving opinions and advice from men. I have always had to make more efforts than my male peers to make my voice heard.
Do you think it is important to have mixed teams in the sector?
Yes, the profession must become more modernized. By having mixed teams, the farmers' vision will be changed, and the value of our words will be heard as equal to our male counterparts.
Has there been any woman in your life that have influenced you to be where you are at today?
I cannot choose just one; my grandmothers Paquita and Teresa have always been fighters and have transmitted their strength to me.
What would you say to a young lady who wants to work in the agricultural sector?
Be brave, and together we will be able to change perspectives. It is essential to trust yourself, be ready with your education and documentation. This way, no one will make you doubt your knowledge.
PEPTON HELPS IN ROOT GROWTH
PUBLICATION AT FRONTIERS PLANT SCIENCE
When plants are challenged by temperature and nutrient stress, their root growth can be affected.

Pepton helps promoting longitudinal and lateral root growth and therefore increasing belowground vegetative growth, which may in turn lead to improved aboveground vegetative growth and increased yields.

The publication at Frontiers in Plant Science shows how Pepton can help tomato plants under stress conditions.
Read the full study HERE.
APC-Europe SLU has been beneficiary of an aid of 125,000€ from the European Regional Development Fund of the European Union under the FEDER Operational Programme of Catalonia 2014-2020 in the project R17-1-0096 to be carried out between February 2018 and August 2020. The project will have a total estimated cost of 867,731.51€ and is titled:
"Desenvolupament d'hidrolitzats de sang pel seu ús com a bioestimulants de creixement vegetal i recerca del mecanismo d'acció a nivel fisiològic en la planta"
("Development of blood hydrolysates to be used as plant-growing biostimulants and research into the physiological-level mechanisms of action of the plant")
The main objective of the project is the research and development of new hydrolyzed animal blood products that can be used as biostimulants, i.e. products that improve the availability and absorption of nutrients, and/or increase tolerance to abiotic stress, and/or improve the quality aspects of the harvest. Within this framework, extensive studies are being carried out in cooperation with the University of Barcelona and IRTA, on the mechanisms of action at the physiological level of the plant. More specifically, an integral investigation is carrying out at both, laboratory and pilot plant levels, as well as on the ground, in order to give response to a gap of scientific knowledge in the field of the biostimulants offering, additionally, innovative products with unique features. Therefore, through the realization of this project, the company seeks to increase its know-how in Agro and obtain non-existent products in the current market, so it will be more competitive both nationally and internationally.